If you are fond of nail art, then you must know that the same marble nail art is very popular in today's time. Wondering how to create marble nails at home. Although marble nail art professionals can do very well, today I am going to share with you ways to create marble nails at home.
First of all, you have to apply a base layer on your nails, the job of the base coat is to prevent your news from becoming yellow and stained. There is no pigment on the biscuits and due to this, we can easily apply any polish on them.
Pick your polish
Grab your nail polish. Now, here I am gonna take up pink, white, black, and black glitter polish for the nail work.
First of all you have to take your pink nail polish and make a base of pink color on the index finger little finger and thumb, after this you apply a base of white nail polish on your middle finger and black glitter polish on your ring finger.
Dry and apply
After doing this, now you wait for all your nail polish to dry and as soon as it dries then after that you start applying your second layer on the nail polish, it gives a nice finish look to your nails. Keep in mind that you have to apply the second layer on the same nails with the same colors as you did earlier, you get very good coverage.
Marble design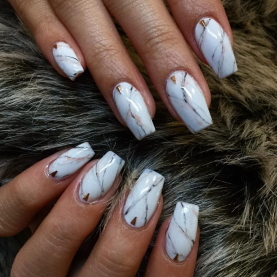 Now it is the turn to marble nail designs, for this first you should put a top coat on your middle finger on which you have applied bright colored nail polish so that our design can be made on it well when your topcoat is dry Then you take your black nail polish and nail art brush and dip the nail art brush in black paint. Now you start making marble nail art lions. The specialty of marble mail art is that the line formed on it is zigzag and random.
Imagine a marble stone or look in front of you, to get the marble nails ideas. To give your design a realistic look, take a brush and repeat it in 90% alcohol or acetone and then slowly rotate it on the line of nail art so that it looks absolutely real by spreading the line.
Now that you have the effect, then you start making marble lines again, just like you made last time, this time you do not have to spread the lines. After this, you just put on a top coat. These are the ways to make realistic marble nails.